Vessels
by Kathleen Whitten
"And afterward, I will pour out my Spirit on all people. Your sons and daughters will prophesy, your old men will dream dreams, your young men will see visions. Even on my servants, both men and women, I will pour out my Spirit in those days." (Joel 2: 28-29)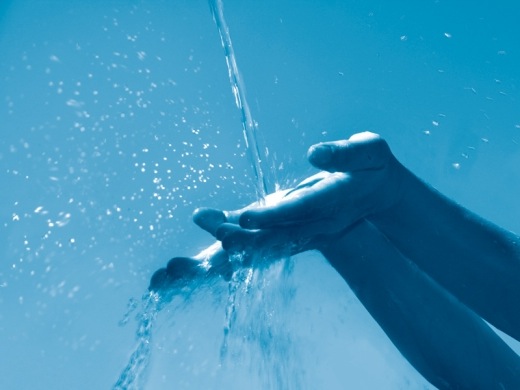 What time period is Joel referring to in the above prophecy? Joel is referring to the days after Pentecost. He is referring to the days since Christ's resurrection and henceforth the outpouring of the Holy Spirit upon Believers of every tongue and nation—whether male or female—young or old. Joel is talking about today.
We are living in the day Joel prophesied. We are living in the time of the outpouring of the Holy Spirit!
For thousands of years, before God sent the Holy Spirit to dwell in men, God spoke to His people through a prophet or a sign. But since Pentecost, God has been doing a "new thing." Since Pentecost, God (the Holy Spirit) lives inside believers. We are the vessels in which He chooses to dwell! And God has continued to pour out His Spirit so that believers might receive more. But why do some Christians seem to be more filled with the Spirit than others? Why do some believers operate more in spiritual gifts (prophecy, visions, hearing from God) than others?
Water is representative of the Holy Spirit. So let's say I hand you three drinking glasses, equal in their volume capacity to hold a substance. I then instruct you to hold the first glass beneath nothing, set the second glass beneath a muddy leak, and place the third glass beneath a fountain of water. After thirty seconds you move the glasses.
The three glasses are equal in their ability to receive water (the Holy Spirit), but only the third glass is filled. Why? What made the difference?
The difference between the vessels was not their capacity to receive, but what they were placed under.
One glass stands empty and alone because it isn't placed under any substance at all. The second glass is filled, perhaps feeling temporarily content, but with the wrong substance.
But the third glass is filled, refilled, and overflowing with water (the Holy Spirit), not because it is a better glass, but because it was placed under the fountain of living water!!
The Bible refers to us as vessels or containers. (Matthew 25:4, Acts 9:15, Romans 9:21-23, 1Thessalonians 4:4, 2Timothy 2:20, 21, 1Peter 3:7, 2Corinthians 4:7).
We are filled with any substance that we place ourselves under. What are you placing yourself under today?
If you subject yourself to a lifetime of trying to please yourself, then you will be filled with nothing—empty and alone. If you subject yourself to constant bad news, scary movies, immoral entertainment, and ungodly people, then you will be filled with fear and filth: mud.
But, if you place yourself under the Love of Jesus, then the Living Water of Truth will fill your empty places, and you will never be alone again! If you place yourself under the teaching of the Word of God, then the Living Water of the Word will begin to fill you and even wash the mud away.
"…be filled with the Spirit." (Ephesians 5:18b)
"Blessed are those who hunger and thirst for righteousness,
for they will be filled." (Matthew 5:6)
"… that you may be filled to the measure
of all the fullness of God." (Ephesians 3:19b)
Do you enjoy reading these email meditations? Please search your heart for others in your life who your think may enjoy receiving them too. We encourage you to forward this page to anyone who you feel needs to hear the Good News of Jesus Christ.
If you would like to receive these weekly meditations by email, please take this link.
We thank you for your support of kwm! We are a non-profit organization that relies on your donations, referrals and prayers! Thank you for your support and for sharing this Good News with others in your life. Perhaps God has already used kathleen's powerful messages to help you or those you love, then GIVE TO GIVE by joining us in helping to bring her messages to others! Your support of kwm enables us to offer all of kathleen's messages (audio and written) for FREE, reaching those who are financially challenged who would not recieve God's word any other way.

Becoming a financial partner with kathleen whitten ministries means that, together, we can offer all the ministry has to bring God's healing and hope to a hurting world.
Jesus said, "Freely you have recieved, freely give." Matthew 10:8b LivingJesus.us