Angels Encamping
by Kathleen Whitten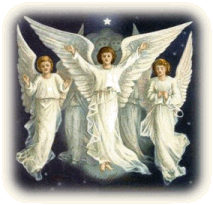 Have you ever wondered what it would be like if you could see into the invisible spiritual realm? We put much credence in our physical world and in all that we can see. Yet the spiritual world, which is usually invisible to human eyes, is more "real" and more ancient than the physical world.
The spiritual realm, where angels reside and God lives, existed long before our physical realm. As a part of the spiritual realm, God, though invisible to our human eyes, created our physical world and all that we can see.
The spiritual world is eternal while the physical world is temporal. Yet many people have difficulty believing in things outside of their physical worlds. And even many "spiritually minded" people rarely consider the activity of the spiritual world around them.
If God gave you the ability to peer into the spiritual world what would you see? One of the most awe-inspiring sights would be the Lord's angels.
Psalm 34:7 tells us that when a person loves and honors God, then the angel of the Lord literally encamps around him or her. In other words, the Lord's angel is not only hovering over you, but also surrounding, protecting, and even ministering to your needs at all times.
"The angel of the Lord encamps around those who fear him,
and he delivers them." Psalm 34:7
While taking chemo-therapy in the hospital, there were many nights that I woke up with no one physically present but with a very definite and strong spiritual presence. This presence of The Lord was so strong that it felt as real as you might feel the presence of the person sitting next to you today.
The Lord and His angels are always with us! Yet we sometimes "feel" a spiritual presence more than other times. Therefore, "feelings" are not a good barometer when it comes to spiritual things.
Prayer: Dear Lord, Please open my spiritual eyes to recognize that You and Your angels encamp around me with love, protection and songs of deliverance. Help me to remember I cannot live by sight or even feelings, but by faith in You and Your Word. Whether I feel like it or not, You are always with me to bring peace, protection, provision, healing, and most of all eternal life. Thank You for Your great love for me, Lord. Amen.
Do you enjoy reading these email meditations? Please search your heart for others in your life who your think may enjoy receiving them too. We encourage you to forward this page to anyone who you feel needs to hear the Good News of Jesus Christ.
If you would like to receive these weekly meditations by email, please take this link.
We thank you for your support of kwm! We are a non-profit organization that relies on your donations, referrals and prayers! Thank you for your support and for sharing this Good News with others in your life. Perhaps God has already used kathleen's powerful messages to help you or those you love, then GIVE TO GIVE by joining us in helping to bring her messages to others! Your support of kwm enables us to offer all of kathleen's messages (audio and written) for FREE, reaching those who are financially challenged who would not recieve God's word any other way.

Becoming a financial partner with kathleen whitten ministries means that, together, we can offer all the ministry has to bring God's healing and hope to a hurting world.
Jesus said, "Freely you have recieved, freely give." Matthew 10:8b LivingJesus.us