Unveiled
by Kathleen Whitten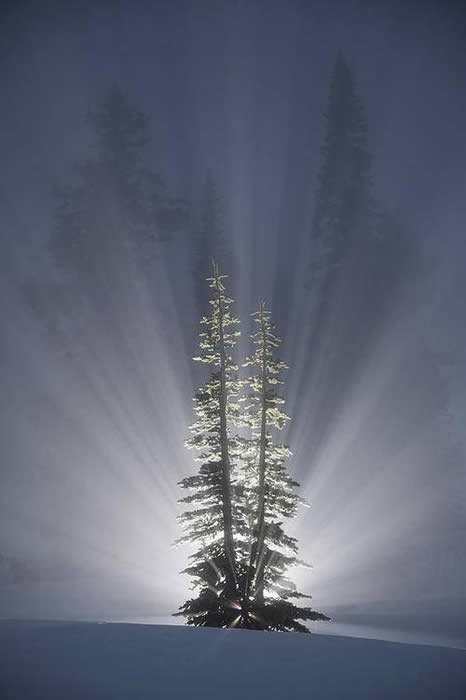 When Moses came down from Mount Sinai with the two tablets of God's Testimony, his face was so radiant from being in the presence of the Lord the Israelites were afraid to come near him.(Exodus 34:29, 30) In order to tell the people God's messages, Moses had to put a veil over his face so the reflection of God's glory would not be too bright for the people's eyes. (Exodus 34:33-35)
Why was Moses forced to wear a veil in order to talk to God's own people? What made them fear? Why couldn't the people gaze even indirectly at God's glory by looking at Moses?
Sin
A sinful heart cannot gaze upon the glory of a perfect God.
Only after receiving forgiveness for our sins, through Jesus Christ,
can we behold, the awesome and fearful glory of our Lord!
Christ took the veil off of our eyes! Christ removed the veil from our hearts! 2 Corinthians 3:16 puts it this way, "But whenever anyone turns to the Lord, the veil is taken away." No wonder our covenant with God is called a new and better covenant. (Hebrews 7:22) Because of Jesus, believers can steadily gaze into the face of God!
No more separation. No more fear.
Only wonderful freedom!
2Corinthians 3:17,18 "Now the Lord is the Spirit, and where the Spirit of the Lord is, there is freedom. And we, who with unveiled faces all reflect the Lord's glory, are being transformed into His likeness with ever-increasing glory, which comes from the LORD, who is the Spirit."
Jesus removed the veil of separation so like Moses, we now have the freedom to be in the presence of God! Believers spending time in God's presence will have faces reflecting His glory and lives transformed into His likeness!
Through Jesus God is unveiled!
Only in spending time in God's unveiled presence,
are we transformed to be more like God!
Do you enjoy reading these email meditations? Please search your heart for others in your life who your think may enjoy receiving them too. We encourage you to forward this page to anyone who you feel needs to hear the Good News of Jesus Christ.
If you would like to receive these weekly meditations by email, please take this link.
We thank you for your support of kwm! We are a non-profit organization that relies on your donations, referrals and prayers! Thank you for your support and for sharing this Good News with others in your life. Perhaps God has already used kathleen's powerful messages to help you or those you love, then GIVE TO GIVE by joining us in helping to bring her messages to others! Your support of kwm enables us to offer all of kathleen's messages (audio and written) for FREE, reaching those who are financially challenged who would not recieve God's word any other way.

Becoming a financial partner with kathleen whitten ministries means that, together, we can offer all the ministry has to bring God's healing and hope to a hurting world.
Jesus said, "Freely you have recieved, freely give." Matthew 10:8b LivingJesus.us