Lasting Satisfaction
by Kathleen Whitten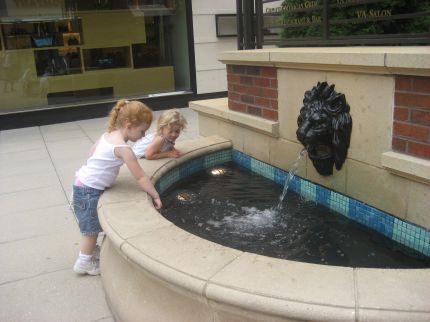 Enduring the begging for unnecessary and expensive items became preferable to the soaring summer temperatures. So I took my two young children to the mall.
As we sat at the base of an indoor fountain, my three-year-old played "How-close-can-I-get-to-the-water-without-getting-in-major-trouble" while my daughter and I people watched.
The expressions on people's faces did not look peaceful or content. On the contrary, most people (even those carrying many wonderful purchases) looked downright dissatisfied.
It appears then, that even when we are able to buy, obtain, receive, achieve whatever it is that we think that we want, many times there is still no lasting satisfaction.
True and lasting satisfaction is a gift from God. No one, no matter how much money, influence, or will power, can achieve lasting satisfaction for himself except that God give it to him.
All of us yearn for lasting satisfaction and we all have desires. The good news is that God says that He wants to satisfy our desires with good things! (Psalm 103:5)
So what moves God to satisfy our desires with good things?
And when does He give us the gift of satisfaction?
When we seek Him first.
And when we delight ourselves in Him!
"But seek first His kingdom and His righteousness, and all these other things will be given to you as well."(Matthew 6:33)
"Delight yourself in the Lord and He will give you the desires of your heart."(Psalm 37:4)
When we seek God's ways (loving others, obeying His voice, allowing Him to change our hearts), then He gives us many "other things!" And when we delight ourselves in God (enjoying Him, talking to Him, praising Him), then He promises to give us the desires of our heart (those desires that no one but God knows that we even have). And only then do we have true and lasting satisfaction.
True and lasting satisfaction is a gift from God that no one wants to return.
Do you enjoy reading these email meditations? Please search your heart for others in your life who your think may enjoy receiving them too. We encourage you to forward this page to anyone who you feel needs to hear the Good News of Jesus Christ.
If you would like to receive these weekly meditations by email, please take this link.
We thank you for your support of kwm! We are a non-profit organization that relies on your donations, referrals and prayers! Thank you for your support and for sharing this Good News with others in your life. Perhaps God has already used kathleen's powerful messages to help you or those you love, then GIVE TO GIVE by joining us in helping to bring her messages to others! Your support of kwm enables us to offer all of kathleen's messages (audio and written) for FREE, reaching those who are financially challenged who would not recieve God's word any other way.

Becoming a financial partner with kathleen whitten ministries means that, together, we can offer all the ministry has to bring God's healing and hope to a hurting world.
Jesus said, "Freely you have recieved, freely give." Matthew 10:8b LivingJesus.us