Ratzon ha 'El
by Kathleen Whitten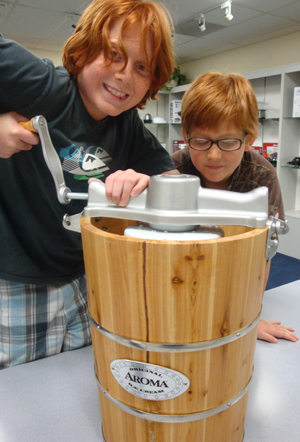 Mattie is 6 years old... Mattie wants to drive my car... Mattie asks daily when she will be able to drive my car...
Let me say this again: Mattie is six years old...
Today when I picked her up she had asked again when she would be driving. I told her, "Mattie, enjoy doing what you are doing right now because it is going to be ten years before you can get your driving license."
"How much is ten years?" she said leaning forward and raising one eyebrow.
"Approximately 3,650 days," I said grateful to still be one step ahead of her, "so why keep asking and being sad about something that you can't do yet or don't have yet - when you have so many things to enjoy today!" I watched her pensive expression in the rearview mirror.
There was silence in the back seat. And then a little voice asked boldly, "Mommy, can YOU drive me to get that rainbow ice cream that you say looks like playdough? And can I get gummy bears on top?"
There was silence in the front seat as I realized that I was no longer one step ahead of her. "OK, but in a cup not a cone. I don't want rainbow ice cream all over my car."

Speaking of ice cream and "time" - a friend of mine tells an "ice cream timing story." When she was a young girl (she is now a grandmother) the children in her family each took turns churning the homemade ice cream maker.
Being the oldest child, my friend always took the last turn. Her parents had told her not to stop turning the handle until the ice cream became almost impossible to churn because that means that it's ready.
Well that summer day her little mouth was watering for the creamy sweetness and she felt that it really wouldn't matter if she quit a little early. So when it became her turn, she churned for a little while and then announced that the ice cream was ready. But when it was dished out it - it wasn't even ice cream yet...It was just mushy sweet milk...What a disappointment! What a lesson!
What do we learn from this? Don't quit too soon. Don't insist on getting something too early. Be willing to wait. Well, we could learn lots of things, but perhaps most important is: "Timing is everything!"
All of my life I have prayed for God's will but only in the last several years have I prayed for God's timing.

I received an email from a close friend in Israel. I had written her to ask her how to say, "God's timing" in Hebrew.
She responded to my email about "God's timing" to say that there is no set Hebrew expression for "God's timing" but the closest phrase which is used frequently is "Ratzon ha 'El," which means "God's will."
God's Timing = God's Will
The great news is that God's will is good and perfect!
Romans 12:2 says the "...will of God - that which is good, acceptable and perfect."
More great news is that God's will is to prosper us and give us a wonderful future!
Jeremiah 29:11 says, "For I know the plans I have for you," declares the LORD, "plans to prosper you and not to harm you, plans to give you hope and a future."
But still, as finitely minded human beings,
God's timing can appear too late
or too early.
Recently, a precious friend of mine felt that God's timing was too soon because she did not plan on having a baby so soon after marrying. But it turned out to be perfect timing, a perfect baby and God's perfect will!
However, for most of us most of the time, God's timing appears to be late. Another dear friend had a brain tumor for over four years before it was correctly diagnosed. By the time the tumor was found, the medical picture looked very bleak. But she told me that she and her husband would not have their adorable four-year-old if God had revealed the situation earlier because she would not have become pregnant. And today mother and child are healthy and thriving!
What in your life today seems too soon? Or what in your life today seems too late?
God's timing is God's will.
God's will is perfect and good.... God's timing is perfect and good...
Driving too soon could prove disastrous. Unfinished ice cream tastes like mushy milk. And more importantly, the REALLY significant things in life - our futures, our relationships, our plans - need to have His perfect timing!
When we put our lives IN God's hands then our families, our health, our finances, our relationships, and our dreams are in His perfect timing!
But when we take these things OUT of God's hands and try to control them ourselves – then we can get way OUT of God's timing and usually way IN trouble.
So what do we do?
Trust God with what seems too soon,
enjoy what you have today,
and wait for what is to come - His perfect timing...
Because in His Timing will be His Perfect will!
"Ratzon ha 'El"
Pray:
Dear Jesus, I pray for Your perfect timing and Your perfect will in every area of my life - knowing that Your will for me is good, prosperous and the best plan for me!
God, please help me to trust You with the things that seem too early or too late. Forgive me for not trusting you with some things that have seemed too soon and for not enjoying what you have given me today because of something I want in the future.

I recognize that your will and your timing are perfect and I want nothing less than your best for me. Thank you for your love and patience. Thank you for your good plan for my life - the blessings I have received from You and the blessings I have yet to receive! Amen.

Believe:
Romans 12:2 "Do not be conformed to this world but be transformed by the renewing of your mind that you may prove the will of God - that which is good, acceptable and perfect."
Jeremiah 29:11 says, "For I know the plans I have for you," declares the LORD, "plans to prosper you and not to harm you, plans to give you hope and a future."
Do you enjoy reading these email meditations? Please search your heart for others in your life who your think may enjoy receiving them too. We encourage you to forward this page to anyone who you feel needs to hear the Good News of Jesus Christ.
If you would like to receive these weekly meditations by email, please take this link.
We thank you for your support of kwm! We are a non-profit organization that relies on your donations, referrals and prayers! Thank you for your support and for sharing this Good News with others in your life. Perhaps God has already used kathleen's powerful messages to help you or those you love, then GIVE TO GIVE by joining us in helping to bring her messages to others! Your support of kwm enables us to offer all of kathleen's messages (audio and written) for FREE, reaching those who are financially challenged who would not recieve God's word any other way.

Becoming a financial partner with kathleen whitten ministries means that, together, we can offer all the ministry has to bring God's healing and hope to a hurting world.
Jesus said, "Freely you have recieved, freely give." Matthew 10:8b LivingJesus.us