Ignore and Believe
by Kathleen Whitten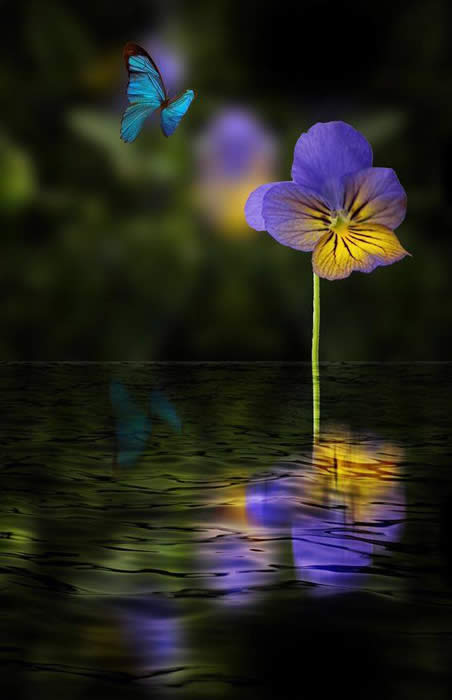 Believing in God's good plan for our lives is easy when our circumstances are wonderful!
But believing in God's good plan for our lives
or the lives of our loved ones
is not easy when we are having a difficult time!
During difficult times, even well-meaning friends can make believing God harder by saying things like, "Well, aren't you afraid that blah-blah-blah will happen?" or "I know someone that went through the same thing and it was a tragic mess" or "I'm just sick that this is happening to you because it can ruin your life!" Or the infamous: "What are you going to do now?" (Bet you're feeling encouraged already.)
These same kind of "encouraging" friends were in vast supply when Jesus traveled to a home where a little girl was deathly ill (Mark 5:22-24, 35b-43). Crowds of people were crying and wailing outside the house. As Jesus approached, the crowd even laughed that any attempt was being made to pray to God. To top it all off, a few men took it upon themselves to tell the girl's parents to stop bothering Jesus since they felt there was no hope left.
"Distraught" would not begin to describe the hearts of the parents. Like all parents who would give their own lives for their children, I am certain these parents felt fearful, sad, angry, confused, hurt, weary, and helpless. So what does Jesus tell them? What does Our Lord tell us today when we are going through a tough time and the voices around us are basically telling us to give up?
Jesus says:
"Don't be afraid; just believe."
(Mark 5:36)
What a powerful and simple command from Our Lord. But don't miss what Jesus did in order to tell the parents to believe. Mark 5:36 says specifically:
"Ignoring what they said, Jesus told the (parents),
"Don't be afraid; just believe."
Ignore people? Isn't that rude? No, not according to Jesus. He not only ignored the crowd, but He kicked them out. Mark 5:40 "…after He put them all out, He took the child's father and mother and the disciples who were with Him, and went in where the child was." He then worked a miracle, and the child was restored.
Likewise, when we are in a tough situation, Jesus teaches us "put out the crowd" and bring in only Him and His disciples. Although we may not always understand the plans of God or even the results of our prayers, we can better believe and trust in Him when we stay in faith and out of fear.
If you are experiencing a hard time right now, do not let the voices of others keep you from believing God. Ignore unbelieving words, walk away from the "doubting" crowd, and go straight to the open-arms of Jesus.

"Don't be afraid; just believe."
Do you enjoy reading these email meditations? Please search your heart for others in your life who your think may enjoy receiving them too. We encourage you to forward this page to anyone who you feel needs to hear the Good News of Jesus Christ.
If you would like to receive these weekly meditations by email, please take this link.
We thank you for your support of kwm! We are a non-profit organization that relies on your donations, referrals and prayers! Thank you for your support and for sharing this Good News with others in your life. Perhaps God has already used kathleen's powerful messages to help you or those you love, then GIVE TO GIVE by joining us in helping to bring her messages to others! Your support of kwm enables us to offer all of kathleen's messages (audio and written) for FREE, reaching those who are financially challenged who would not recieve God's word any other way.

Becoming a financial partner with kathleen whitten ministries means that, together, we can offer all the ministry has to bring God's healing and hope to a hurting world.
Jesus said, "Freely you have recieved, freely give." Matthew 10:8b LivingJesus.us